(2013)
FROG TROUBLE
and Eleven Other Pretty Serious Songs
• For Ages One to Older Than Dirt
Hang on to yer hat, Cowboy. FROG TROUBLE is Sandra Boynton's first Country music album. And WHOA! Brad Paisley, Dwight Yoakam, Alison Krauss, Ryan Adams, Ben Folds, Kacey Musgraves, Fountains of Wayne, Darius Rucker, Josh Turner, Linda Eder, Mark Lanegan, Falls Mountain Cowboys. Yep.
(2007)
BLUE MOO
17 Jukebox Hits from Way Back Never
• For Ages 1 to 1962
All new songs, with a sound straight out of the carefree, irresistible music of the '50s and early '60s. Better yet, sung by many of the legends of that era: Neil Sedaka, Bobby Vee, B B King, Brian Wilson of the Beach Boys, Davy Jones of the Monkees, Gerry & the Pacemakers, Steve Lawrence, Sha Na Na. The bomp is back.
(2005)
DOG TRAIN
a Wild Ride on the Rock-and-Roll Side
• For All Ages and Obedience Levels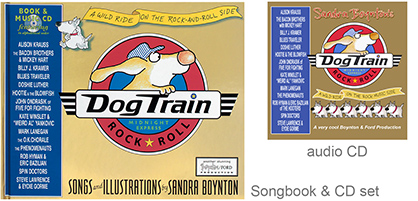 "What is this - the Ina Gadda Da Vida of children's songs?"
- John Popper
Well, yes.
This is the third of the Boynton/Ford renegade children's albums, sold as always with a deluxe illustrated lyrics book. Moody, energetic, and unpredictable new songs, written and illustrated by the moddy, energetic, and unpredictable Sandra Boynton.
Performed by the most unusual mix of legendary musicians imaginable - Blues Traveler, Spin Doctors, Alison Krauss, Hootie & the Blowfish, The Phenomenauts, and yes, there's the obligatory Weird Al Yankovic/Kate Winslet duet.
(2002)
PHILADELPHIA CHICKENS
an Imaginary Musical Revue
• For All Ages, Except 43
That curious Boynton/Ford dazzle takes to the stage in this zippy musical production. Starring (are you ready?) Meryl Streep, Laura Linney, Kevin Kline, Eric Stoltz, Patti Lu Pone, The Bacon Brothers, Scott Bakula and many more. Nearly a million copies sold!
(1996)
RHINOCEROS TAP
style, swing, charm and pizzazz
• For All Ages, Except 43
The very first Boynton/Ford songwriting and music production collaboration. Fifteen original songs performed by the terrific
and versatile Adam Bryant. This captivating recording is a
must-have for home and car and yurt (if wired.) (Not you-the yurt.)
(1996)
GRUNT Pigorian Chant
plainchant in Pig Latin
• For Ages XVI to C
Perhaps the single most ambitious, inexplicable project in a
career fraught with ambitious inexplicability: a book/CD documenting a simple day in the simple lives of the simple pigs
of Snouto Domoinko de Silo. Intoned in the original Pig Latin,
with antiphonal responsari and commentaria by the lesser
barnyard animals. (Maybe you had to be there.) Sooee generis.
(2010)
BOLERO COMPLETELY UNRAVELED
Maurice Ravel
Sandra Boynton (principal kazooist)
& The Highly Irritating Orchestra
Michael Ford conducting
• 17-minute playing time but seems MUCH longer
Three hundred earnest kazoos, with full symphony orchestra,
bravely present a high-fidelity, full length recording of Mauric
Ravel's most famous work. No other recording so perfectly
conveys the element of struggle in Ravel's mesmerizing
composition. Struggle, yes-yet eventually, maybe triumph.
Then again, maybe not. In any case, the exhilaration the audience feels when at last the performance ends is surely monumental.